A rhinoplasty procedure, often referred to as a nose job, is generally performed by a cosmetic or plastic surgeon to change the shape or size of the nose. A surgeon can remove bone, cartilage and skin tissue to reduce the width and length of the nose. Surgeries on the nose that are designed only to change its appearance are primarily meant for older teenagers and adults after the nose has stopped growing. In some cases, patients requesting the surgery have interior or exterior abnormalities of the nose, such as a deviated septum or unusual bumps. However, many patients already have attractive and nicely proportioned noses but want to make it more aesthetically pleasing.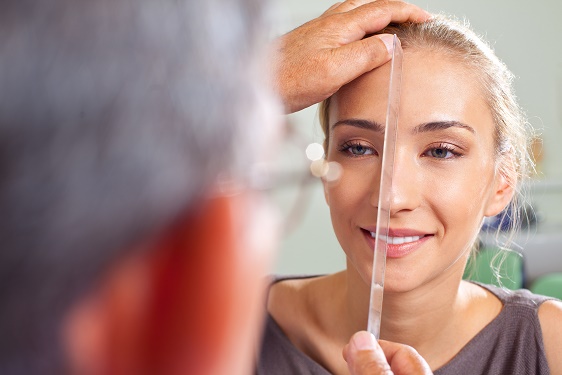 Many individuals in the entertainment industry want to look attractive while on stage or in movies, leading to getting a nose job or rhinoplasty procedure. Celebrities who have had nose job procedures include singers, actors and models who desire a perfect face in photographs.
Celebrities do not always admit that a rhinoplasty procedure was to make their nose more attractive in film or on stage. Instead, they will state that the procedure was needed to repair a deviated septum or other abnormality. In Hollywood, it is common for people involved in the entertainment industry to receive multiple cosmetic procedures such as nose reshaping. Some celebrities, such as actress Jennifer Grey, are very open about having plastic surgery that radically changed her appearance, while others want to keep the procedures private.
A few of the most famous rhinoplasties, whether real or imagined, done by celebrities include:
• Michael Jackson – popular singer
• Jennifer Grey – movie actress
• Jennifer Aniston – movie and television actress
• Jessica Alba – movie actress and model
• Blake Lively – model and actress
• Beyonce – well-known singer
• Tyra Banks – model and spokesperson
• Ashlee Simpson – songwriter and singer
• Shia LeBeouf – director and actor
• Winona Ryder – movie actress
• Seth Meyers – Talk show host
• Megan Fox – actress
• Angelina Jolie – director and actress
• Benjamin Bratt – actor
Athletes are also known to get nose jobs due to sport injuries that require extensive repair. While having repair to a nose, it is also possible for plastic surgeons to make other changes such as changing its shape or size. Additional famous rhinoplasties include:
• Bruce Jenner – Olympic swimming athlete
• Andrew Flintoff – Cricket player
• Stephanie Rice – Olympic swimming athlete
• Manu Ganobill – Hockey player
• Rebecca Adlington – Olympic swimming athlete
• Cristiano Ronaldo – Soccer player
• Jon Niese – Baseball pitcher
Other celebrities in the public eye have needed to have nose job procedures due to accidents or nasal abnormalities. A few of these famous rhinoplasties include:
• John Kerry – politician in the United States
• Anwar El-Balkimy – politician in Egypt
• Ed Miliband – politician in the United Kingdom
While most people think that only those who are rich and famous can or should get rhinoplasty procedures done, they may actually be more common, affordable, and necessary than you may think.