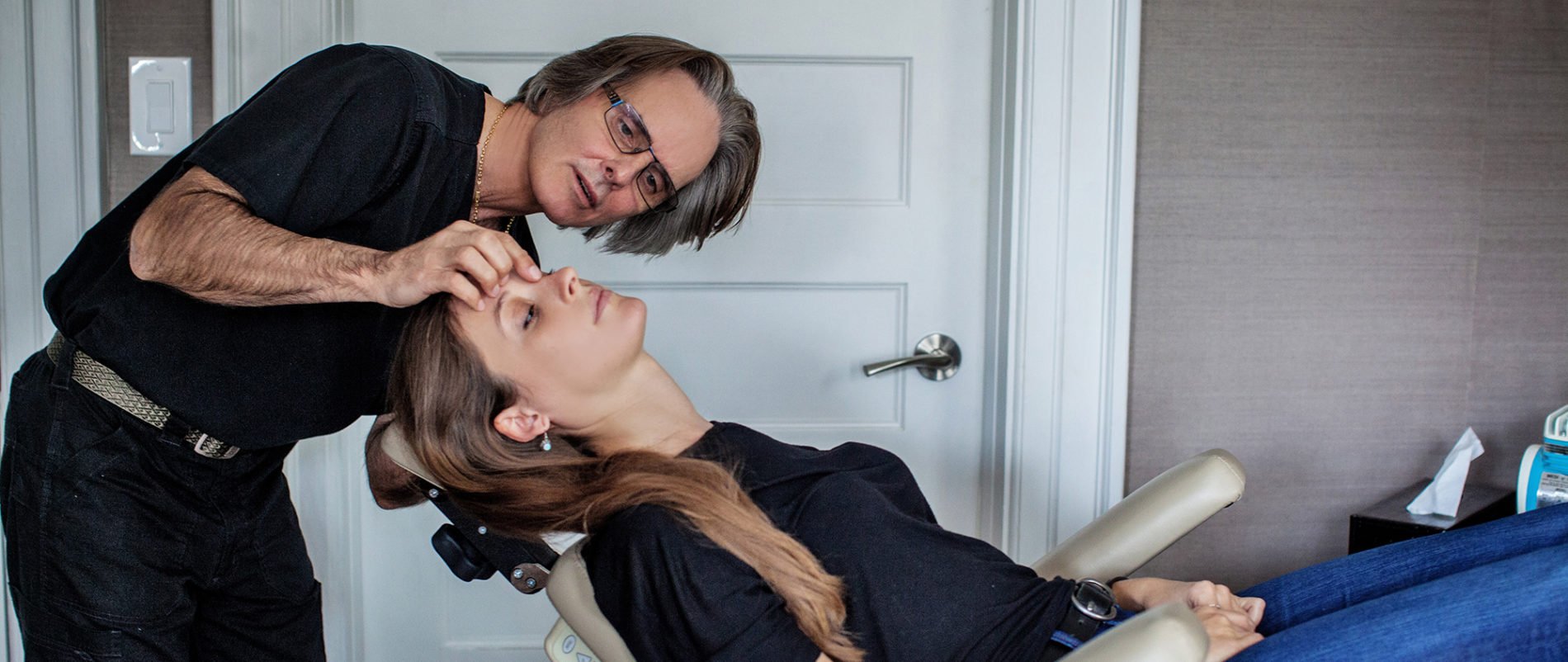 Congratulations for taking the step to meet with Dr. Oakley and his team before you make such a critical decision. Here, we aim to give you an idea of what to expect during your visit. We believe the more you know, the more relaxed you will be heading to our office and meeting with the team. We look forward to meeting with you!
Finding Us
We are located at 2349 Queen Street East. A quaint area downtown Toronto, Ontario often referred to as "The Beaches". Away from the tall skyscrapers and hustle and bustle, this side of town has a much more relaxed pace. This is a high traffic area during the summer, due to the proximity of Lake Ontario's shoreline, sandy beaches and boardwalk. For more details on finding us, visit our contact page.
What to Expect
Upon arrival, you will feel like you're walking into a friend's home. The beautiful decor and atmosphere is very welcoming. You will immediately recognize Dr. Oakley's love for artwork throughout the office, as he is an avid collector. Come on in, and you will be greeted by our friendly staff who are expecting you.
Arrival
There will be some paperwork to go over and fill out prior to your consultation with Dr. Oakley. This shouldn't take too long. You should expect to be in the front sitting area anywhere between 20 minutes to an hour as Dr. Oakley's schedule adapts to the patient's needs. You will appreciate this trait during your consultation, as it is not in his personality to rush the meeting and he wants to be sure to have a solid understanding of your concerns and ideal outcomes. We appreciate your patients during this time.
Meet Dr. Oakley Smith
Dr. Oakley is a down-to-earth, people person. He has built his career working with individuals and we are sure you will find speaking with him a very positive experience. The goal for this consultation is to discuss current symptoms or complaints you may have with your current nose and what your ideal solution is. Once Dr. Oakley has a solid understanding of your expectations, he will ask you to move to his examination chair to gain a close-up look at your nose and facial structure.
A Closer Look
First off, let's just say that there is no pain during this examination.
This is merely a gentle, close look with the help of a few examination tools, measurement tools and lights, etc. This allows Dr. Oakley the ability to determine his beliefs of possible aesthetic / cosmetic changes and functional improvements (which he will discuss with you in detail).
Sketch the Nose
Once the examination has taken place, Dr. Oakley, being the artist that he his, will take to pencil and paper and visually illustrate his thoughts with you, explaining the outcome he see's possible. Keep in mind, any past surgeries, or injuries, or the thickness of your skin or even the width of your bone and cartilage will all play a role in how your nose can be shaped without "going to far". This is where Dr. Oakley shines.
If you desire different results than what will fit your face, or your bone structure, Dr. Oakley will explain this to you and caution you with the related consequences. Many of Dr. Oakley's patients are people who are coming to him to fix a past surgeon's error. This is the most valuable stage of our process, as you will walk away with an expert opinion on what is best for you, so you can make an educated decision moving forward.
Before Pictures
We take our before and after pictures very seriously. (One look at our before and after gallery and you will notice this.) We are equipped with a photo room that has precise angles that you will be posed on. The goal is to get a before on every critical angle… and an after on every exact angle.
This way, we can place your before and after images side by side with stellar accuracy (even though they are taken months apart from one another). Once again, as an artist, Dr. Oakley knows the slightest difference in angle changes the entire perspective.
The result of this perfectionism is a launching point that will be used when Dr. Oakley creates digital mock-ups for you to see your possible new nose (emailed to you at a later date) and marks the beginning of a well documented journey of your rhinoplasty surgery.
Quote Consultation
During the photo shoot, Dr. Oakley has filled out an estimate of costs involved in completing your rhinoplasty surgery as well as outlined any details that need to be discussed. You will go over the estimate in detail with Dr. Oakley's support staff and will have the opportunity to schedule your surgery if you are certain you wish to move forward. Keep in mind, we believe in a no-pressure approach and we encourage you to take the time needed to make your decision. As well, Dr. Oakley's team will plan on emailing you within the following week to offer you a visual representation of the best case scenario that you can possibly expect.
Email and Contract
Not long after your consultation, you will receive an email with Dr. Oakley's visual representation of what you can expect. These are your before pictures, manually photoshopped to create best case scenario, based on Dr. Oakley's expert opinion. Along with these images, you will be cautioned that your body is not 100% predictable and that no doctor should guarantee results. It's humanly impossible to know the exact outcome of any rhinoplasty surgery. Rest assured, surgeons who are skilled and experienced have the highest probability of achieving anticipated success and Dr. Oakley is a leading Rhinoplasty Surgeon in Canada, highly respected within the industry. Read more of Dr. Oakley's credentials here.