Are you hiding your nose job?
That's a question only you can answer. You can shout it to the rooftops, tell everyone you know on social media with before and after photos, keep it to yourself, or something in between. Nobody can tell you what is the best course for you. Having a nose job is a personal decision, so choose what's most comfortable for you.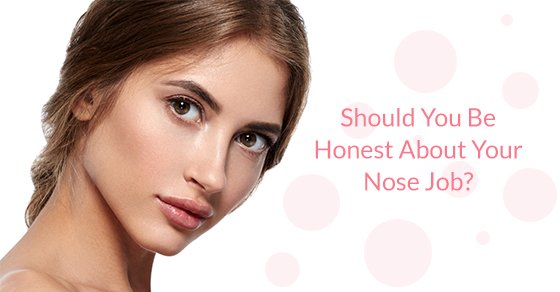 Different Strokes for Different Folks
Every person and every nose is different. There is no right or wrong way to proceed once you decide to have rhinoplasty surgery.
The conservative approach
This entails telling only your closest relatives and/or friends that you are getting a nose job. Maybe you only want to share it with the one person who will drive you to and from the clinic on the day of surgery. If you are really a private person, you would need to insist they keep the secret. Just like no one needs to know what a nose job costs, they don't need to know you are having one.
The "I own it" approach
Maybe you are the kind of person who likes to share everything with everybody, both good and bad. Do you as a matter of practice like encouraging others to take charge of their lives? Cosmetic surgery is extremely commonplace, so you might want to shout it out to everyone you know. You're not ashamed of doing it; you are proud of doing it. It's the 21st century after all!
You could give a play-by-play account of the whole process and post it on social media for all to see. You might share absolutely everything about it, including what a nose job costs as part of your statement, but be prepared for some negativity about your decision.
If you are totally committed, this is a cathartic approach that might encourage someone else to make their decision.
The meet-in-the-middle approach
Many of us need support and encouragement from family and friends when we are doing something exciting, a little scary, but exhilarating too. Sharing this decision with certain people you trust is always a good choice.
Wherever you fall on the scale of being honest about your nose job—from keep your nose out of my business (sorry) to telling the whole world—ultimately it remains your choice.
Find the best nose job surgeon and be sure they will openly explain the nose job costs and listen to your personal concerns and desires.
If you are ready to take the first step, schedule a consultation with Dr. Oakley Smith.