The answer largely depends on what your doctor recommends, but usually patients will be able to wash their face within a few days of the procedure. Unless you have splints that need to stay dry before its removal, you should be able to maintain personal hygiene soon after coming home from the procedure.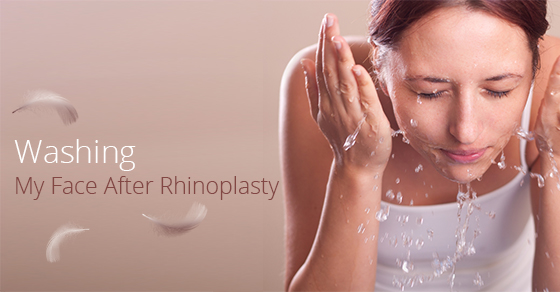 Keeping your cleansing regimen simple
When you wash your face, it's important to use a gentle face soap around your nose in order to avoid irritating the area, so avoid cleansers with an exfoliating or scrubbing agent, like microbeads. You can also moisturize, but it's a good idea to keep your nose dry since that helps with proper healing.
It's best to avoid directly touching your nose after surgery because it's best not to interrupt the healing process, which means you shouldn't push hard or scrub the wound. Any of the normal secretions from the incision are part of your body's way of healing, and letting your body do its job is one of the best things you can do for yourself after the rhinoplasty.
Tip: In order to avoid bumping into low or bulky faucets, fill the bathroom sink with water and rotate the faucet away from the sink if it's possible. Another option is to use a clean and shallow basin for washing your face by bringing the water to your face using your cupped your hands (repeat as necessary).
What to do if you have a splint
Splints are used to support the nose as it heals permanently into its new shape, especially when work has been done on the septum, but it's also useful as a reminder to protect your nose. In addition to the splint, other parts of the dressing include:
Packing, which is a soft, absorbent material used to fill a cavity
Sutures, also known as stitches, to close up a wound
Tape, for structural support
On the first day after the procedure, make sure to keep the area and the dressings away from moisture. Your doctor will instruct you on how the splints will be removed in the following few days, which is most likely when you can start to wash your face again.
With the removal of the dressings, your face will start to approach the intended outcome of the rhinoplasty. After a week, much of the swelling will be subsided, and you'll be able to resume most of your regular activities.