How to Find the Best Cosmetic Nose Job Surgeon
In Canada cosmetic procedures are performed by General Plastic surgeons, Facial Plastic surgeons, Otolaryngologists-Head and Neck surgeons, Dermatologists, Ophthamologists, MaxilloFacial surgeons and Family physicians. Each group of doctors have their own skill set and training. With so many physicians how can you find the best Toronto nose job surgeon? Most people start with certification. Certification in a surgical specialty assures the public that particular surgeon has received an acceptable degree of training in that specialty's area of expertise. The domains of subspecialty competence can and do overlap between some specialties. A good example is Rhinoplasty in which Otolaryngologists, General Plastic and Facial Plastic surgeons are all educated. Another example is hand surgery in which both General Plastic surgeons and Orthopeadic surgeons are trained and examined. A final example is back surgery where both Orthopeadic and Neurosurgeons have competency. Because there has been a large growth in the demand for cosmetic surgery and the procedures are well paid, several groups of physicians have recently become involved in providing cosmetic services. Family physicians who do not receive surgical training to the degree the surgical specialists do, are an example of a recent trend of physicians not traditionally associated with cosmetic surgery. The following is a synopsis of the type of doctors currently performing some aspect of cosmetic surgery.
Do Your Research to Find the Best Cosmetic Nose Job Surgeon
The best way to select your surgeon is to do your own research. Meet with one or two Rhinoplasty surgeons. Review examples of their work. Make sure you feel you have a good rapport with him. This includes feeling confident the surgeon has listened to you and heard your goals. This way you will have made an informed decision. Don't just take someone else's recommendation. Anyone who refers you to a plastic surgeon has far less at stake in the outcome than you do. It's up to you to take responsibility for finding the best doctor. You can't get the information you need from a resume, an attractive web site, the size of an advertisement, a framed diploma, or the office decor.
In the field of cosmetic surgery, it is difficult and confusing to know which surgeon does what procedure. There are many specialists and non-specialists who practice cosmetic surgery. This can all be very confusing to the general public, who are really only interested in having their surgery done properly and successfully. Unfortunately for the consumer, there are conflicting statements by groups of self interested physicians, motivated by market forces rather than professed patient care. This only adds to the fear some people have of receiving a bad result.
General Plastic Surgeons
American Board of Plastic Surgery Crest

General Plastic surgeons complete a five year surgical program in Canada. Their training includes cosmetic surgery, hand surgery, burn treatment, skin malignancy, breast reconstruction surgery, and microsurgery. Not all General Plastic surgeons perform cosmetic surgery and instead may confine themselves to burn treatments or hand surgery for example. The scope of cosmetic surgery varies amongst General Plastic surgeons and some limit their practice to only breast surgery and/or body liposuction surgery. Others offer the full spectrum of cosmetic surgery including Rhinoplasty, Otoplasty, facial rejuvenation, body liposuction, breast augmentation, genital surgery, Brazilian butt lift, laser treatments, tattoo removal, facial peels, tissue filler and Botox injections.
Facial Plastic Surgeons
American Board of Facial Plastic and Reconstructive Surgery Crest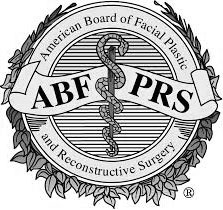 Facial Plastic surgeons are generally trained first in Otolaryngology-Head and Neck Surgery. A very small number come from General Plastic Surgery background. Additional advanced training in plastic and reconstructive surgery of the face, plus certification and examination is the usual route certification in Facial Plastic Surgery. Their practices are focused exclusively on facial surgery, and largely in the areas of cosmetic and reconstructive surgery. Rhinoplasty or cosmetic nose surgery is a focus of Facial Plastic surgeons, since the majority are also trained in Otolaryngology-Head and Neck Surgery and thereby have a great understanding and profound knowledge of the function of the nose and nasal aesthetics.
Otolaryngologists
American Board of Otolaryngology-Head and Neck Surgery Crest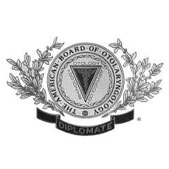 Otolaryngologists–Head and Neck surgeons complete five years of surgical training in Canada. Their skills include diagnosing and surgically treating diseases of the face, nose and head and neck region. Their specialty training includes substantial experience in Facial Plastic and Reconstructive surgery. The majority of head and neck cancer treatment is performed by Otolaryngologists. In Ontario 85% of the most complex plastic surgeries to reconstructive the face and neck after cancer surgery are performed by Otolaryngologists. 80% of Rhinoplasty and 95% of Septoplasty in Ontario are performed by Otolaryngologists. Not all Otolaryngologists perform cosmetic surgery, some restrict their practice to common problems like tonsillectomy and sinus surgery. Otolaryngologists who perform cosmetic surgery almost aways focus exclusively on surgery in the head and neck region.
Dermatology
American Board of Dermatology Crest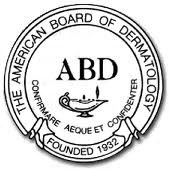 Dermatology is the specialty of skin diseases. These physicians are trained in the diagnosis and treatment of skin disorders. The practice of Dermatology includes the cosmetic treatment of the skin. This includes the management of the aging skin and skin rejuvenation therapies. Cosmetic Dermatologists are skilled at laser therapies. Not all Dermatologists have a cosmetic practice. Although Dermatology is a medical specialty, Dermatologists are also trained and perform surgical procedures. These are usually of a minor degree and don't involve general anaesthetic. Often these physicians undergo additional training before performing surgical procedures on the skin. Dermatologists perform Mohr's surgery, a very time consuming, exacting and highly successful surgical treatment for difficult and aggressive facial skin malignancies.
Ophthalmologists
American Board of Ophthalmology Crest

Ophthalmologists are specialists trained in treatment of eye disease and the structures surrounding the eyes. They undergo a five year training program in Canada. Some Ophthalmologists undergo further training to become sub specialists known as Oculoplastic surgeons. These surgeons are well trained and skilled in performing plastic and reconstructive surgery on the surrounding structures of the eye, like Blepharoplasty (eye lift). In Ontario 95% of plastic and reconstructive surgeries around the eye are performed by Opthalmologists.
MaxilloFacial Surgeons
American Board of Oral and Maxillofacial Surgery Crest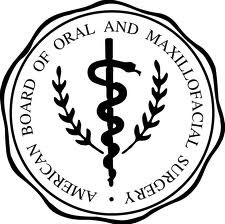 MaxilloFacial surgeons are trained in Dentistry and then complete further specialization in Oral surgery. This field includes surgical treatment of structures associated with the jaw and maxilla (upper jaw). They treat early stage oral cancer, temporomandibular joint (TMJ) disfunction and perform orthognathic or jaw surgery. People with over or under-bites, which can't be treated with braces alone, can undergo jaw surgery by MaxilloFacial surgeons.
Family Physicians
American Board of Family Medicine Crest
Family Physicians have completed there medical school training and a residency in family practice. Some Family Physicians have pursued a practice in the field of cosmetic enhancement. These services are usually limited to skin care, skin rejuvenation and injectable products. A very few have also incorporated cosmetic surgery into their practice. Often Family Physicians enhance their skills by taking educational courses in these areas.
Final thoughts about choosing the best cosmetic nose job surgeon
The credentials of your physician are important, but do not guarantee a successful result. Royal College certification by itself means almost nothing. A fellow of the Royal College (Canadian specialist) has passed a written test and oral examination. The process does not evaluate the surgeon's manual dexterity, artistic talents, whether he cares about his patients' well-being, or whether his results are excellent, average or even poor. You want more than a Royal College specialist; you need a doctor who can also deliver excellent results.
Surgeons however can't guarantee success unfortunately. Even master Rhinoplasty surgeons have the occassional poor outcome. However the more experienced and skilled the surgeon, the less likely an unsatisfactory result. In choosing a surgeon it is wise to start by picking someone with the appropriate credentials for the procedure. This alone isn't sufficient. A surgeon may be skilled at one operation, like breast augmentation or cancer reconstruction, but average or worse at another, like Rhinoplasty. Therefore the surgeon should be experienced and frequently performing the surgery. You can ask how often and how many, but there isn't a means of independently verifying. There is accurate documentation of the reconstructive Rhinoplasties, and there are about 800 a year in Ontario. Unfortunately the number of cosmetic Rhinoplasties isn't known. In the GTA there are about 60 surgeons performing Rhinoplasty. The average number of Rhinoplasties per surgeon, per year is 25. Remember this means 30 surgeons in the GTA are doing less than 2 Rhinoplasties per month. This is clearly not enough to maintain your skills.
Most cosmetic Rhinoplasty surgeons will provide examples of their work. While this is helpful, remember it represents their best. This isn't by itself necessarily bad. If he could do it for someone else, he can possibly do the same for you. However the good results can create a false sense of expectation. The real question- what is the probability of achieving the desired result?, unfortunately can't be answered accurately and independently. Like any other service, the skills and talent between professionals vary. Surgery isn't a product; its a service, and service providers vary in quality. Remember the old joke "What do you call the person who graduated last in his medical school?" Answer: "A doctor!" A poor rhinoplasty result can't be returned for a replacement like a defective cell phone. Hence the need to be an informed consumer.